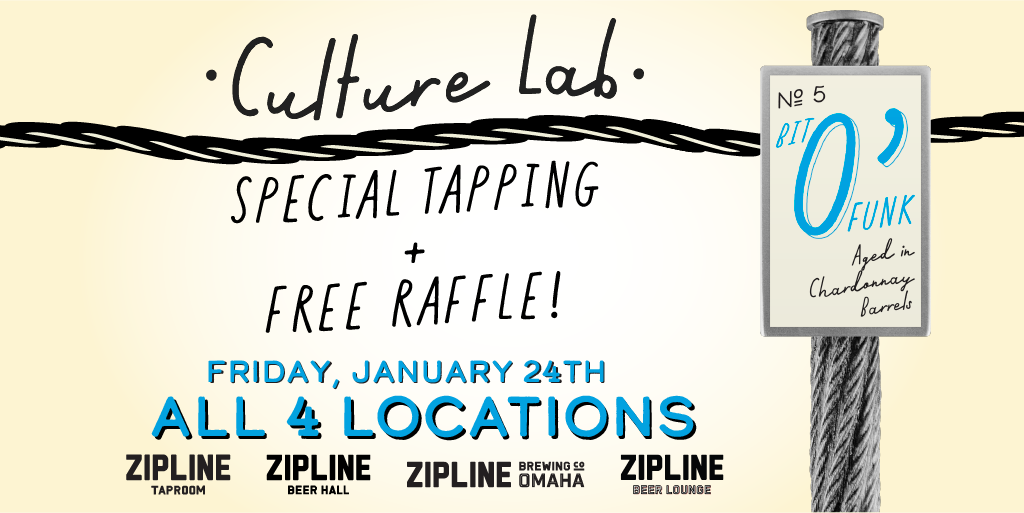 Culture Lab Special Tapping + Free Raffle
Join us as we tap Culture Lab No. 5 "Bit O' Funk" our Alpha Modern session IPA aged in Chardonnay barrels with a brettanomyces strain called "Brett Brux" for over a year at Our North Downtown Omaha Taproom. The result is a bright, delicately tropical, chamagne-esque, supremely elegant feat of brettanomyces perfection. This beauty is availiable on tap only, no to-go. We have a limited supply and want to spread the funky love around!
OH! And when you stop by any of our taprooms on Friday you will automatically receive a raffle ticket that will enter you in a drawing to win a pair of Culture Lab glasses and two culture lab crowler fills from the Culture Lab in Downtown Omaha.
A year ago we launched a wild ale program in our Downtown Omaha space. The "Culture Lab" is a place where barrels and brettanomyces rest and frolic together in imperfect harmony. There we get to explore all the funky science that is producing wild and mixed fermented beers. In that one year we have cultivated five, soon to be six, radically different and complex wild ales. Until now, all of these beers have lived exclusively at the Culture Lab in downtown Omaha. However, this Friday we are sharing these feral delights with ALL of our taprooms.