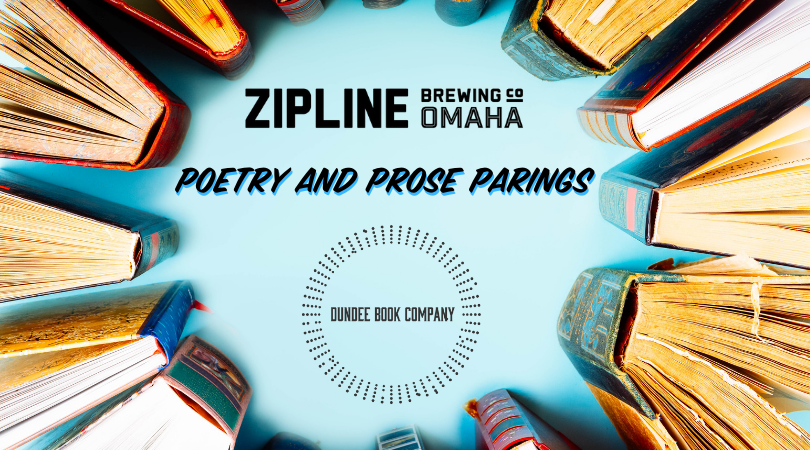 Poetry and Prose Pairings – Omaha Taproom
August 9, 2019 @ 6:00 PM

-

8:00 PM
Join the Zipline Pub. Library and Dundee Book Co for the second edition of Poetry and Prose Pairings! Four esteemed local writers will pair their work with a flight of Zipline beer.
Listen along, read along, and drink along!
The readers for this edition are Scott Aichinger, Emily Borgmann, Ángel García, and Rachael Wolfe! (Bios below.) The night will be hosted by Trey Moody and Gene Kwak.
In addition to the library, the Dundee Book Company roving book cart will also be on hand with a selection of provocative new books for sale!
Scott Aichinger's poems have appeared in Into the Void Magazine, Cruel Garters, IDK Magazine, OPEN: Journal of Art & Literature, tap litmag, Bluestem, and Ghost City Review, among others. His poems have been nominated for a Pushcart Prize and Best of the Net. He earned an MA from UNO and an MFA from Creighton University.
Emily Borgmann (they/them/theirs) is a poet, essayist, and writing educator. They are the recipient of an Academy of American Poets Prize, a Champion of Youth advocacy award from Youth Emergency Services, and a 2018 Nebraska Arts Council Fellowship in Literature. Emily's poems and essays have appeared or are forthcoming in such journals as Waxwing, Copper Nickel, The Laurel Review, Green Mountains Review, and Alligator Juniper.
Ángel García, a proud son of Mexican immigrants, was born in Texas and raised in Southern California. His collection, Teeth Never Sleep (University of Arkansas Press), was the winner of the 2018 CantoMundo Poetry Prize, selected by Rafael Campo and a Finalist for the PEN American Open Book Award. His work can be found in American Poetry Review, Crab Orchard Review, Huizache, Miramar, and The Good Men Project, among others. He currently lives in Lincoln, NE.
Rachael Wolfe earned a BA in English and Gender studies at the University of Nebraska-Lincoln, where she was an editor of the journal Laurus from 2007 to 2009. She helped to run a poetry studio and community space located near downtown Lincoln from 2011 to 2017. She has been published in Handsome, Bone Bouquet, and New Bile. Her chapbook, Sauce, was released through the publishing arm of the poetry studio (SP CEbooks, 2012). Her booklet, Time Disappears, was released by merrily merrily merrily merrily in February 2019, right before her risk reducing mastectomy.