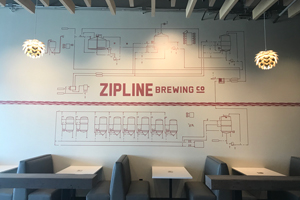 Zipline Beer Lounge (West Omaha):
Zipline Beer Lounge boasts oversized lounge chairs, couches, a fireplace, shuffleboard, and a full-service lending library. West Omaha neighbors will be able to enjoy the freshest year-round, seasonal, and small-batch beers Zipline has to offer. Inside the soft interiors, or out on the patio, Beer Lounge is a great environment for a beer, a game, a read, or a chat.
3808 S 203rd Plaza
Omaha, Nebraska 68130
HOURS
Monday – Thursday: 3:00pm – 9:00pm
Friday: 2:00pm – 10:00pm
Saturday: 12:00pm – 10:00pm
Sunday: 12:00pm – 6:00pm
---
Growlers, boston rounds, six-packs, four-packs, mix-n-match, and gear available for off-sale.